News
14th March 2020
Land Required for affordable housing
We are asking for your help to find a piece of land in Stoke Gabriel for the development of up to 12 affordable homes.
Please contact us if you have a piece of land within the Parish and would be interested in helping a worthwhile Community project that would change local people's lives now and in the future.
Our need for affordable homes: These homes are for families and individuals with strong local connections to the Parish, who are struggling to afford to live here because of high rents, yet they work in key local jobs, like the shop and pre-school, which contribute to sustaining our village. Many are from local families who have lived in the village for generations.
Creating homes: These houses would be protected so that only local people could live in them and would be kept affordable for future generations of villagers. They would be designed and constructed to the highest sustainable standard with high energy efficiency
The type of site needed: We are seeking land within the Parish boundary, of between one and three acres, fairly flat and accessible by road. We are able to take advantage of a special planning process as we are a community initiative; this means that we can develop a site that would not normally receive planning permission.
Payment for land: In order to achieve affordability of the houses, it is essential that the land price is kept as low as possible. Under "Exception Site" planning rules we are able to look at sites which sit just outside the planning boundary making them more valuable then just agricultural land values. In some cases it is even possible to build the land owner an open market property. Please talk to us for more information.
Our Support: We have significant support from Stoke Gabriel Parish Council, the Neighbourhood Plan Group and South Hams District Council and have built strong links with them over the last 3 years. Our Community Land Trust has sold over 450 shares to local people who have become CLT members.
Time is of the essence: We need to identify a site soon, otherwise we may be forced to cease our efforts. We are a small group of volunteers running the CLT, with full time work commitments and families, and we need your help as a matter of urgency.
Tom (Chair of SGCLT) would be delighted to hear from you and be most grateful if you could contact him on 07799 403788 or email: tom@sgclt.org.uk and our website has a short video introducing us and explaining our needs.
22nd July 2019
Parish Council Meeting - Approve the principle of development by SGCLT of identified land at Duncannon Lane
Tom Morris and Marie Howard introduced the team and between them explained the history, processes and reasoning behind the the community desire to bring forward truly affordable housing for the people of Stoke Gabriel . The site section process was explained fully as were the potential layout and design of the 12 houses - although it was stressed that at this point , the proposals were at concept stage - and so subject to potential changes.
Tom advised that Highway concerns had been addressed by the introduction of a one way system on the new adopted road. It was also mentioned that there was now a need to progress the project as Homes England Grant funding was due to be withdrawn at the end of 2019 - with no indication whether a new Grant scheme would be introduced for 2020 onwards. It was AGREED that the presentation be placed on the website for Parishioners convenience and also in the "Gallery" of the SGCLT website
Matters raised by Parishioners / Councillors
1. It was imperative that the Parish should be consulted / involved when detailed designs / layouts were prepared - NOTED
2. It was also important that the CLT works with the NP group - NOTED
3. It was noted that there could be an element of open market housing - Tom explained that this may be required to fund the build costs should grant monies not be forthcoming but that it was the hope that the whole scheme would be 100% Affordable
4. From where would the housing be visible - The housing is well screened and in such a position that they can not be seen from the other side of the River, the SG riverside or the Mill Pond. (See LVIA in Gallery linked above).
5. Confirmation that there are no covenants attaching to the site - Confirmed by owner
The Council thanked the CLT team and Rob Ellis (SHDC - Community Housing Officer) for preparing such a detailed and comprehensive presentation and members of the Public congratulated the Team for bringing forward such a tremendous and valuable Community scheme
The Chairman thanked the CLT team for the clear and informative presentation. It was AGREED that each Councillor had sufficient information on which to base a decision. It was RESOLVED that Stoke Gabriel Parish Council approves in principle of development by Stoke Gabriel Community Land Trust at identified land at Duncannon Lane, Stoke Gabriel - given the information supplied to date.
Unanimous decision - by show of hands
30th May 2019
Parish Council Open Evening
Tom, Marie and Rachel attending the open evening and gave a presentation on the SGCLT.
Affordable housing keeps villages like ours alive. We aim to build 10-12 homes matching the village's housing need's survey. Our management team have been working closely with SHDC to achieve this aim for the last 2 years.
When people live in affordable homes positive things happen. Relieved from the stress of high rents, there is at last opportunity to save money, undertake education and training and to confidently get on with their lives, knowing they can stay in their local community.
7th December 2018
Drop in Housing Needs Event with the Neighbourhood Plan Group
An article was placed in the December parish magazine advising villagers of a collaboration between the neighbourhood plan group and CLT for a housing needs update in the Castle Pub. This was also widely advertised by posters around the village prior to the event.
Attendance was good with 29 feedback forms completed. The presence of other events also being held increased activity and interest. Undoubtedly this was more successful than a standalone drop-in. Some results taken from the forms were:
| | | | |
| --- | --- | --- | --- |
| | YES | MAYBE | NO |
| Would you consider undertaking a self-­‐build project for your next home if the land was made available in the parish | 17 | 8 | 4 |
| | YES | NO | DON'T KNOW |
| Should an element of new housing in the parish be reserved for people with a local connection? | 24 | 4 | 1 |
11th October 2018
SGCLT Update to Village Neighbourhood Plan Team
Progress of the Stoke Gabriel Community Land Trust (SGCLT) October 2018
News Update
1. Maire has been working hard over the summer getting the group members to register with Devon Home Choice. For information DHC have taken over the running of social (council) housing from SHDC and will be responsible for the 10 rental properties on the Cavanna site. All our group members are so far coming back as Band E (Of no housing need).
The Cavanna development is not a rural exception site or Village Housing Initiative and the S.106 is allocating the rental properties via the Local Allocation Policy, so priority Bands A-D with a link to Stoke Gabriel. It will then cascade out to district wide need and therefore it is unlikely households in Band E will be housed. Numbers on the South Hams register in Bands A to D January 2018 (624) July 2018 (701) In Band E (787)
2. Along with this we are now contacting the group to make sure that they are registering with Help to Buy south west. This organisation looks after or advertises via other providers affordable properties to buy through shared ownership. We do not know who will be selling the 5 units on the Cavanna site at this time, but the open market two bed terraces are being offered at £234,995. As an example below:
Weaverys Ways Dartington, Semi Detatched House :
Max £232,500, Min 40%Share £93,000
Rent £299 on 60% , Service Charge £30
A mortgage of £93,000 over 25 years at 3.92% is £487. Totals £487+£299+£30 = £816 month for 40%
Its important that as a CLT we can demonstrate the need for affordable housing in the village, as without a need there is no requirement of affordable housing.
3. We are holding our next Board meeting this month which will start to look at what South hams are offering in the form of a partnership, or if we decide not to what grant funding is available from Homes England.
We are open to constructive feedback from the village community, operating in a democratic, professional manner. Tom Morris and Marie Howard (SGCLT Directors), Paul Bedford, Derek Richards and Jeremy Burgess; (co-opted SGCLT Board members)
24th July 2018
Mortgage Awareness meeting
Facilitator: M.Howard

6.30-.6.45pm

-

Overview of agenda to group.
SGCLT Project Update and Individual Financial Information Request to whole Group – Registration deadline 01/09/18

Facilitator: Tom Morris 6.35-6.45pm

Financial Information Request:

Reminder to Group in need of affordable housing of Financial Information request by 01/09/18 in order to formally be on SGCLT Housing Need Register.

The following 3 points were emphasised:

1.

You can still be in the CLT even if you cannot get any mortgage

. We expect quite a few of us to NOT to be able to get any mortgage and so we are aiming to create affordable rental properties, e.g:

if we build 10 houses, 5 might be affordable with a mortgage and 5 affordable rental

.

2.

We have to ask you to provide us

2 pieces of evidence by 1st Sept

- to REGISTER your need with our CLT, this is not committing you to anything and you will not be letting us down if things change.

Registering with us NOW will put you in the best position you can for a home.

It only takes 2 hrs max to do what we're asking:

·

Register on Devon Home Choice

and send M.Howard your email evidence of Band of housing need (Band E is normal called 'no housing need'-this is fine)

·

See a FREE mortgage adviser - we have the phone numbers of people you can see, who are friendly and won't charge. We need a "Mortgage offer in principal" letter, even if it is a decline letter for a mortgage.

Tom Morris' employment with SHDC.

Group informed of this and action to safeguard against conflict of interest explained.

No further news, positive collaboration with SHDC continues.

Provide SGCLT – 2 pieces of evidence: (1) Mortgage offer or decline letter and (2) Devon Home Choice Band Letter.

All- Every Individual in need of housing




Confidentiality, GDPR and SGCLT Privacy Notice.

-

Overview of use of information by SGCLT.

-

Every person received personal copy of Privacy Notice document.

-

Returned to M.Howard, with signature by end of meeting, to be retained by SGCLT.

Sign permission letter for SGCLT GDPR and retain copy of Privacy Notice
Facilitator: M. Howard 6.55-7.00pm

-

Every member asked to recruit 10 new SGCLT members and continue community involvement and awareness raising of local housing need.

-

Share membership forms distributed to group.

Find 10 SGCLT new members
Main Presentation – Mortgage Awareness and Preparation

Presenter: Nigel Dixon and James Richards. 7.00-8.25pm

·

Introduction – Mortgage Broking an overview of our role in the house buying process. Explanation of how we as an advisory firm earn our money.

·

Mortgages – An explanation of what a mortgage is and the possible structure of the debt and term of the facility.

·

Ages – Minimum and maximum

·

Deposit – Possible sources and evidence required

·

Loan to value ratio – effect on interest rates

·

Shared Ownership – Options available

·

Affordability – Lenders assessment guidelines

·

Credit scoring – What this means and the effect of your credit report

·

Adverse credit history – Credit reports, the effect of adverse history on lenders assessments. Credit reports – how to obtain a copy.

·

Credit scoring – What this means and footprints on credit files

·

Income – Employed, self-employed and receipt of benefit – what the lender looks for as regards evidence

·

Bank statements – lenders requirements

·

Product options – an overview of tracker and fixed rate options and an explanation of the benefits and drawbacks.

·

Help to buy equity loan

Meet Mortgage Adviser and get Mortgage offer in Principal letter.
Feedback Form, thanks and closing of meeting

Training Feedback Form distributed to group and completed by all present.

Thanks to all for attendance.

Completed Training feedback form
12th July 2018
SGCLT Update to Village Neighbourhood Plan Team
Progress of the Stoke Gabriel Community Land Trust (SGCLT) July 2018
1.
As reported in last month's update, our SGCLT Chair; Tom Morris, has been working closely with South Hams District Council to shape the support offered to SGCLT, to reach the shared goal of both organisations, to create good quality, affordable homes for local people.
As a result of developing this collaboration, Tom has been offered a paid post as part of SHDC's Affordable Housing team; working with their team to develop affordable housing schemes across the South Hams and West Devon. Following careful consideration, relating to the issue of conflict of interest, it has been agreed by SHDC and the SGCLT Board, that Tom will remain as Chair of SGCLT, however he will not be involved in any internal meetings at SHDC that discuss plans connected with Stoke Gabriel.
2.
At SGCLT's most recent Board meeting, Rob Ellis from SHDC outlined his thoughts for working together. This initial proposal included funding and advice to get through planning, partnering on site development and building, and even looking at providing mortgages for group members.

There are other options open to SGCLT for developing a prospective site using grant funding from the Community Housing Fund and build loans. Any decisions on how we proceed will be taken once land is secured and viable.
3.
SGCLT's General Data Protection Registration (GDPR) compliance and Privacy Notice for the SGCLT has been completed following discussion and guidance from the ICO and CLT Network.

It is now available to read at our website www.sgclt.org.uk. Marie Howard will be managing the ongoing protection of data.
4.
In preparation for more detailed financial modelling and planning for the development of SGCLT affordable housing, the Board agreed that by 1st September, everyone registered with SGCLT as being 'in need of affordable housing' will provide additional data on housing and financial need (Devon Home Choice Banding letter and Mortgage offer feedback).
To support this process, Marie Howard has organised a group meeting, (July 2018) on the theme of financial readiness for home ownership and information on mortgage applications. Its purpose is to facilitate local people -who may have previously believed they could never get a mortgage or their own home -to reach the goal of their own affordable home through taking positive action to improve their finances.
Two local Independent Financial Advisers will facilitate this, each with a great deal of experience to offer -they have both been professional Bank Managers too. The group facilitation is paid for by grant funding obtained by SGCLT.
Due to school holidays and work commitments, the next update to the NP Group will be in September.

We are

open to constructive feedback from the village community, operating in a democratic, professional manner.
Thank you and wishing you all well in your continued hard work for the Parish,
Tom Morris and Marie Howard (SGCLT Directors), Paul Bedford, Derek Richards and Jeremy Burgess; (co-opted SGCLT Board members)
25th March 2018
Village Open Day
After distributing over 600 leaflets through most letterbox's in the village the "Village Open Day" on the 25th March attracted over 100 people and we had over 80 people/families sign up with a £1 share to support our aim of providing affordable housing.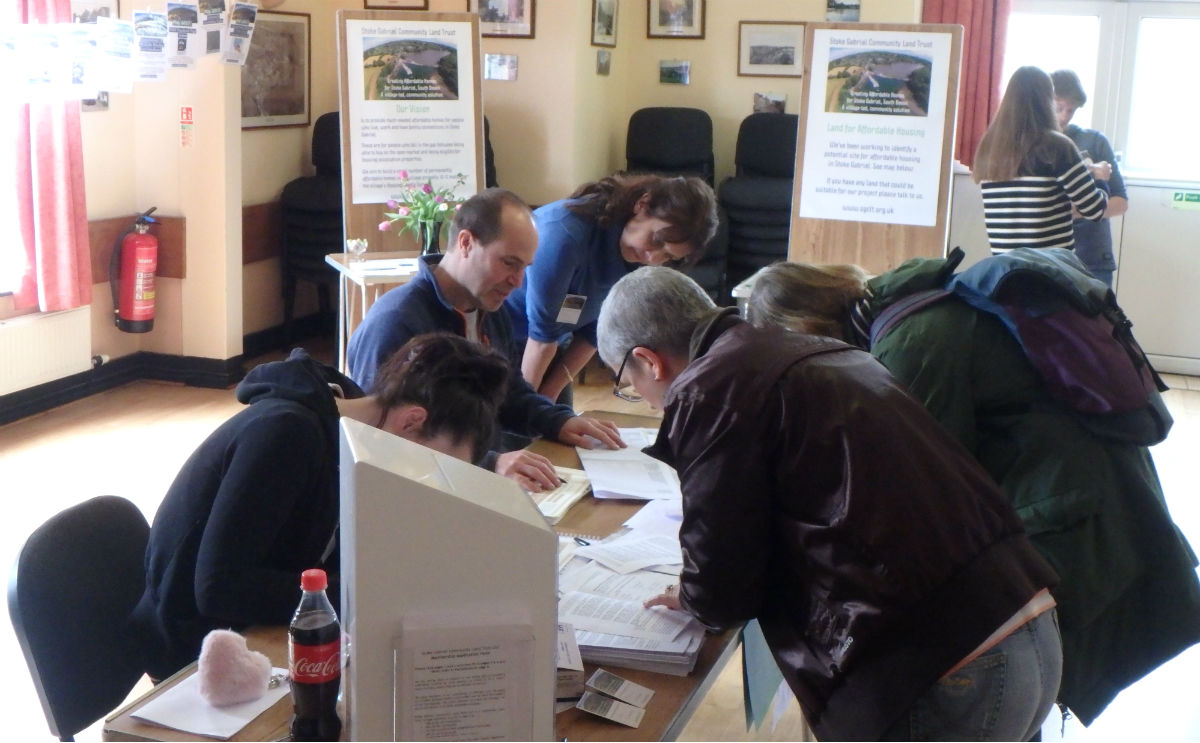 24th March 2018
NEW Website launched for Stoke Gabriel Community Land Trust
Designed by us, grant funded by CLT Network, made locally in Totnes. Information researched and provided by group.
22nd March 2018
Attending & updating Parish Council & Neighbourhood Plan Group
Monthly Community Networking; attending Parish Council Meetings and Neighbourhood Plan Group, updating on our progress and discussing Affordable Housing need and solutions.

22nd March 2018
Grant of two thousand pounds from Community Housing Fund at S.H.D.C
Grant to support whole community participation and awareness raising, e.g. Village open day, costs for publicity, running costs e.g. hall bookings for meetings, professional memberships and insurance.
2nd February 2018
Special General Meeting for our CLT & social for our group.
Voting for Directors completed. Membership of SGCLT – Community Benefit Society begins. Plan presented for social events throughout the year. Thank you to the Church House Inn for donation of chips!
1st February 2018
Parish News Magazine Articles written every month updating village.
Awareness raising- detailing the creation of the Community Land Trust, explaining about CLT's, showing our groups housing need and inviting all in need of affordable homes to contact us.
1st February 2018
Buy a one pound CLT Share launched. Growing village membership and support.
Community participation and membership launched to whole village and wider. Become a member in our village shop, and online- paying via PayPal.
19th December 2017
Technical Adviser on Affordable Housing works with our group
Technical Adviser, Alan Fox – specialist in CLT affordable housing in Cornwall, begins consultancy work. Discussions include; financial modelling, planning and land negotiations. 5 whole days funded by grant from CLT Network.
1st December 2017
Social for group members who are all in need of Affordable Housing
Group Social evening, with bowl of chilli and a chocolate quiz- getting to know each other and updating about progress.
25th November 2017
Whole group meeting with South Hams District Council
Our Affordable Housing Group Meeting was attended by South Hams District Council's manager of £1.8 million Community Housing Fund, to discuss use of fund and support from Council to our group.
5th November 2017
Grant success, helping fund website & village Open Day.
Grant received for Stoke Gabriel Community Land Trust, supporting communication with the wider village community and consultation.
2nd November 2017
Stoke Gabriel Community Land Trust formed
Legal formation of SGCLT as a Community Benefit Society, regulated by the Financial Conduct Authority (FCA).
1st November 2017
Visit to National Affordable Housing Conference
Part of wider networking and learning. One of our members travelled up to London to represent Stoke Gabriel CLT. This was opened by Alok Sharma MP (Minister for Housing and Planning).
1st October 2017
Grant Success! Funding for Incorporation as a Community Land Trust
Successful Grant from CLT Network – a charity supporting the formation of Community Land Trusts, paying for our incorporation cost.
28th September 2017
Group Trip to Affordable homes in Bristol
Group Visit to Bristol Community Land Trust, attended by 5 group members- a great opportunity to see completed affordable homes and to learn more and ask questions, then feedback our learning.
22nd August 2017
Group Kayak Trip A bit of fun! getting to know each other
Tom organised a kayak evening for the group to spend time together on the glorious river Dart!
6th July 2017
Free Community Village Trip to a local CLT in Broadhempston
Free Community Village Trip to a local CLT in Broadhempston. Open to all, this free trip was advertised widely around the village, using posters, sandwich board, Facebook, etc. A free coach was put on by a member of our group. Over 20 people attended, this inspiring visit allowed interested parties to see what's possible and to ask questions
1st July 2017
Our Group starts becomming a Community Land Trust
Our group joins the National CLT Network, a charity that supports the development of new Community Land Trusts in the UK, that can provide affordable housing in an innovative, community-led way.
22nd June 2017
First Open Village Community Meeting about Affordable Housing
First Open Village Community Meeting about Affordable Housing. This was held in after advertising on village notice boards, village shop, pubs and lamp posts! This meeting drew approx. 30 villagers, where we discussed housing need, potential housing solutions including CLT and South Hand District Councils '£1.88million Community Housing Fund'. From this a core community group of interested people formed.
8th June 2017
Land offered by village landowner
Land offered by village landowner for Affordable Housing development in Stoke Gabriel.
1st June 2017
Meeting with South Hams District representative
Meeting with South Hams District representative, responsible for managing £1.88million Community Housing Fund and visit to CoFab part of Carpenter Oak a local timber frame house provider to discuss possible affordable housing designs.
1st May 2017
Community Consultation begins!
We start advertising to find who needs affordable housing in the village, using posters and information in the village stores..